World
War between Ukraine and Russia 2022: how can Kyiv defend itself against new aggression in a cunning way
Ukraine will defeat the Russian Federation when its forces reach the borders of 1991, the military expert noted.
Ukraine, in order to protect itself from the new aggression of the Russian Federation, needs win the war and ensure that a United Nations peacekeeping contingent is stationed near the Russian border.
Ukraine will defeat Russia when it reaches its 1991 borders, told military expert, reserve colonel Oleg Zhdanov.
"Our victory will look like an exit to the borders of 1991 … The continuation of shelling in this case can be solved in several ways – firstly, we will begin to respond, and there will be duels in the border zone …", he said.
According to him, if Ukrainian soldiers enter the state borders, Kyiv immediately turns to the UN "with the provision of us, for example, a peacekeeping contingent and the conduct of a UN peacekeeping operation on the territory of Ukraine called the separation of the warring parties."
"There is this type of operation. It is already being successfully carried out … it will soon be 50 years old, in northern Cyprus (in 1974, Turkey invaded Cyprus, part of the north of the country was captured – Ed.). When UN peacekeeping forces will be on our border. And here Russia will no longer be able to object, … impose … a veto," Zhdanov believes.
The colonel believes that the Russian Federation can be removed from voting on this issue.
"And when a UN soldier stands on our state border, it will turn out that Russia is shooting at UN troops. Accordingly, this may entail … sanctions …, up to its expulsion from the United Nations. Well, or then we will have to dissolve the UN, if it fails to fulfill its functional duties, which, by the way, are spelled out in the charter," the expert added.
Read also: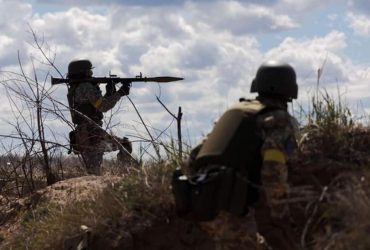 Recall that in 2014, the Russian Federation seized the Ukrainian Crimea and invaded part of the Donbass. In eastern Ukraine, the Russian authorities supported the militants who created the so-called "DNR" and "LNR". There were battles in the Donbas between Ukrainian soldiers and supporters of the Russian Federation.
The Ukrainian side wanted a UN peacekeeping mission to be sent to Donbass, but this initiative was never implemented.
February 24, 2022 the Russian army carried out a full-scale invasion of Ukraine. The opponents managed to capture part of the east and south of the Ukrainian state.
In early June, Minister of Defense of Ukraine Oleksiy Reznikov said that a full-scale the war of the Russian Federation against our country can really be stopped this year.
You may also be interested in the news: