On October 19, 2011, this design, hurriedly made in a primitive graphic editor, marked the most depressing, low point of the Ukrainian European perspective: a legitimately elected president is in power Victor Yanukovichthe paternalistic social contract seems unshakable, the European future is still part of the ritual-protocol political overtures, but neither in the Ukrainian nor in the European mainstream believe in it.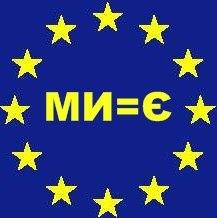 We=E. Then it was the cry of despair of tiny groups of people who denied the night at its darkest point.
Read also
Since that moment, the millstones of history have turned more and more confidently in the other direction: more hope, more activity, more certainty.
Through the stele, rallies on the Maidan, Grusha, the February meetings of the Council, the annexation of Crimea, the beginning of the war in the Donbass, the downed Il-76, Ilovaisk and Debaltseve, the RPR and hundreds of other movements along the same course, the law on the gas market, where the majority was formed, including including calls from embassies, streamers between braces and the desire for visa-free travel, visa-free travel, Tomos, slowing down inertia, 73/25, and progress from the neophyte "I'm not to blame for anything" to the historical "I need ammo, not a ride", through faith in the Armed forces of Ukraine, support for Turn Back Alive and hundreds of other networks.
The current certainty of the European Union about Ukraine and Ukraine about the European Union came when the price that could have been avoided had already been paid. The price, the final value of which is still unclear.
The same price will remind you of the importance of the changes that should come within Ukraine. And within the EU.
Yes, there is no parity between Ukraine and the EU, neither in size, nor in weight, nor, especially, in the quality of institutions. But the difference in our experiences says that this is no longer a one-way street. Our European integration is also a French opening, German consciousness and Polish adoption of the slogan "Glory to Ukraine!".
Perhaps this is not quite the EU of idealized dreams, in it – like in an old house – much will have to be repaired and redone. There will be debates to hoarseness and even quarrels between partners. There will be disappointments and points of unity.
In the end, when the day of Ukraine's accession to the EU comes, our decision may be one or the other.
But the EU is not only a goal, it is a path, and it is valuable because it transforms.
This is not only our involvement in Europe, it is the involvement of the rest of Europe in us, sometimes more than it seems at first glance.
The European Union works when everyone wants to be the best version of themselves.
If you notice a spelling mistake, select it with the mouse and press Ctrl+Enter.
Articles published in the "Opinions" section reflect the author's point of view and may not coincide with the position of the editors of LIGA.net