Story
Two dolphins found in the waters of Sevastopol
The search for dolphins that were thrown into the sea by the owner of the Sevastopol Dolphinarium continues. Two bottlenose dolphins were spotted on November 9 in shallow water, the Federal Research Center "Institute of Biology of the Southern Seas named after A.O. Kovalevsky RAS" told reporters on Wednesday.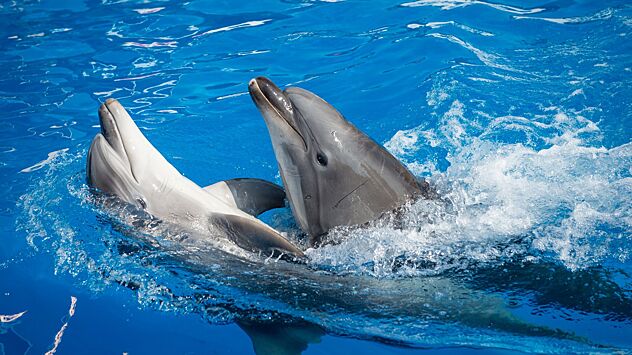 "Employees continue monitoring, they will transfer all information on the observed animals, as well as photos and videos, to specialists of the Karadag scientific station, who participated in the search for four bottlenose dolphins thrown out by the owner of the dolphinarium. Today, November 9, employees of the biological station of the Institute of Biology of the Southern Seas recorded in the area of ​​Laspi Bay two bottlenose dolphins in shallow water. Dolphins frolicked in the sea and hunted," the institute said.
It is clarified that there is no evidence indicating that the dolphins belong to those released from the dolphinarium.
"This behavior of dolphins corresponds to the behavior in the wild and is due to the time of year, seasonality, a large number of fish off the coast of Sevastopol," the institute added.
On the evening of November 2, dolphins from the local dolphinarium were released into the sea on the beach of Sevastopol. According to the governor, these are four dolphins that have been kept in captivity for more than 10 years. The owner of the dolphinarium explained his action by the fact that it is difficult for him to keep animals due to a decrease in the flow of visitors. The Department of the Ministry of Internal Affairs for Sevastopol opened a criminal case on the fact of cruelty to animals after the incident, the prosecutor's office and investigative committee carry out checks.