Story
The identity of the captain of the US Army who died in Ukraine is revealed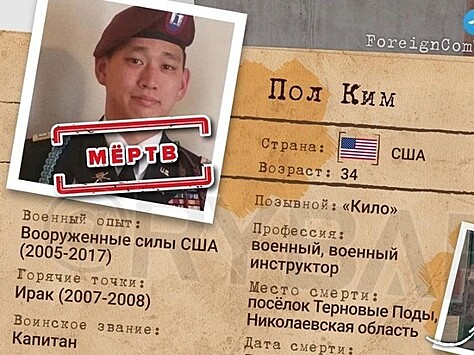 A photo: SOCIAL NETWORKSOCIAL NETWORK
This is Paul Kim. An American officer was killed in the Nikolaev region. In 2005, he was enlisted in the US Army Infantry Reserve, from 2007 to 2008 he took part in the battles in Iraq. In 2011, the American completed a short-term officer training course at Fort Benning and received the rank of lieutenant of the infantry.
From 2013 to 2015, the young man served in the United States 82nd Airborne Division as a platoon leader and in charge of logistics. He was promoted to captain in 2016. A year later, he left the US Armed Forces, but remained in the Army Reserve.
In 2018-2019, Kim worked as a warehouse manager at a Pep Boys facility, after which he became a military instructor at the Golden Key Group in Texas. The American also taught with cadets of the reserve officer training corps at the University of Arlington. In July this year, Kim signed a contract with the International Legion of Ukraine. As an officer of the unit, he fought in the Mykolaiv region, including taking part in the August counteroffensive of the Armed Forces of Ukraine.
The Ukrainian authorities confirmed the death of Kim on November 3, after almost a month of silence. On October 5, the mercenary died as a result of artillery fire near the village of Ternovye Pody. According to some reports, the American participated in the massacre of 12 captured Russian soldiers.