Story
South Korea restores scene of stampede tragedy in Seoul's entertainment district
Most of those killed in the stampede Seoul people died on a small patch of 18 square meters. m. This was reported on Sunday by the police department of the South Korean capital, the newspaper writes. The Chosun Ilbo.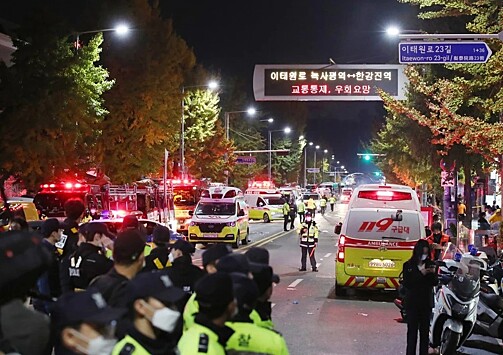 On Saturday, the Itaewon area, which is full of clubs and bars, was unusually crowded due to the Halloween holiday. Over 130,000 people arrived at the nearest subway station that day, more than twice as many as the day before, according to the Seoul Metro. All of them rushed through narrow steep lanes to the main street, where most of the entertainment establishments are concentrated. The busiest lane turned out to be just about four meters wide, adjacent to the metro station.
According to eyewitnesses, the crowd was so dense that people took several small steps per minute, and it took about half an hour to overcome 40 m. Around 10:15 pm, several people lost their balance and fell. The crowd was pushing from behind, a domino effect was created – people began to fall on each other. According to the newspaper, at some point six or seven layers of the fallen formed. Hundreds of people began to try to get around them, moving to the sides and thereby further increasing the density of the crowd. At this time, people continued to enter the alley, increasing the pressure even more, which led to new falls.
About 300 people turned out to be on an area of ​​18 square meters at that moment, it is they who account for the bulk of the dead and wounded in the stampede. By 11 p.m., paramedics and rescuers who arrived at the scene of the tragedy were able to break through the crowd. However, by that time, the vast majority of people who were below were already unconscious or dead. Many died on the way to hospitals.
Statistics
The death toll as a result of the stampede is currently 154, 133 people were injured. The identity of 153 people has been established. Among the dead are 26 foreigners from 14 countries. 98 women and 56 men died. It is possible that the number of victims may increase.
Earlier, the Russian Embassy in Seoul reported four dead Russian citizens. Among the victims was another compatriot, she was taken to the hospital, but her condition does not cause concern.
This is the biggest tragedy in the Republic of Korea since 2014, when the Sewol ferry sank. Then 304 people died, mostly schoolchildren. The events in Itaewon have been called the largest stampede incident in the history of South Korea in terms of the number of victims. The country's leader Yoon Seok Yeol has declared national mourning.