Story
Scientists assessed the threat of "climate hell" for Russia
Deputy Director of the Institute of Atmospheric Physics, Academician RAS Vladimir Semenov appreciated how much Russia the threat of flooding due to "climate hell" is likely. It is reported by RBC.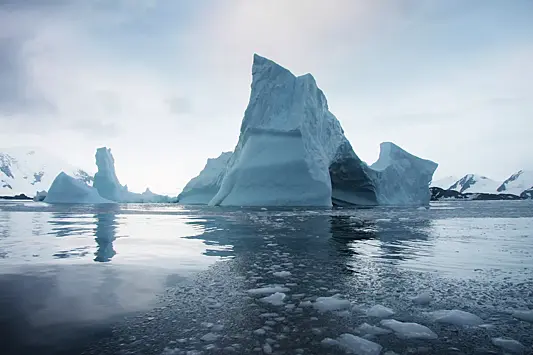 A photo: NSIDCNSIDC
"There is a danger to the coast of the Baltic Sea, where we have Kaliningrad region. In the next decade, the water level may rise by tens of centimeters," the expert said.
At the same time, the difference will be less noticeable on the Black Sea coast due to its gentle nature. Semyonov added that on such Russian beaches, the coastline could shift hundreds of meters. In addition, there is a risk of rising waves. Member of the Intergovernmental Panel on Climate Change UN Oleg Anisimov stated that the process of rising water is slow. Under mild scenarios, by the end of the century it could reach 30–50 centimeters, which would be noticeable for coastal cities and towns. Anisimov believes that sea level rise could theoretically affect cities such as Murmansk, Arkhangelsk and St. Petersburg. Moreover, in the latter case, the Scandinavian glacier, which melted more than 10 thousand years ago, influences the territory. The eastern coast of the Gulf of Bothnia is therefore rising at a rate of 5–9 millimeters per year. This is almost double the current rise in sea level.
According to the representative of the intergovernmental commission, climate risks in Russia are poorly studied. The specialist advised the authorities to focus on beneficial for the country and scientifically based marginal levels of climate change.
Last week the UN Secretary General António Guterres During the climate change conference, COP-27 stated that under current conditions, sea levels are rising twice as fast as 30 years ago. He explained this trend by the melting of glaciers due to global warming. Guterres stressed that the current situation is leading the world to "climate hell". He also noted that the average global air temperature in 2022 will be 1.15 degrees higher than in the pre-industrial period.
Earlier it was reported that by 2100 the temperature on Earth could rise by 2.5 degrees due to greenhouse gas emissions. Such a forecast is given in the report of the UN Framework Convention on Climate Change.