Story
A serviceman of the Russian Armed Forces showed a bulletproof vest that saved his life
A video appeared on the network in which a fighter from one of the Russian units, located in the special operation zone, shows a plate of a bulletproof vest that saved his life during the assault, Rossiyskaya Gazeta reports.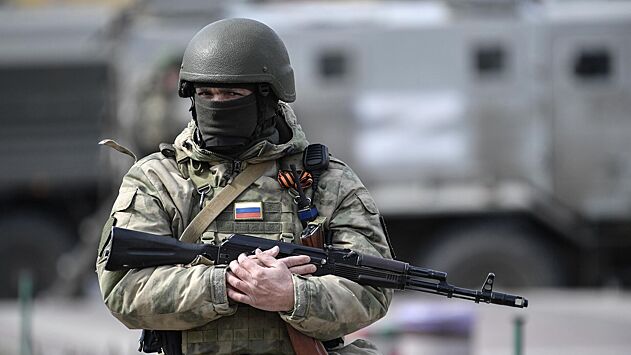 A photo:
On the video – a plate about 3 cm thick, on one of its sides you can see the entrance hole from the bullet. The author of the publication with the call sign Tuman said that a bullet of 5.45 mm caliber hit the front plate of the body armor. The body armor consists of plates made of supermolecular polyethylene developed in Russia. This is a heavy-duty, but ultra-light material – it weighs less than Kevlar-based organoplastic, Rossiyskaya Gazeta writes.
Earlier, the president of the Kalashnikov concern, Alan Lushnikov, said that the Russian combat equipment Ratnik-3 would be equipped with destruction systems. The equipment is developed by TsNIITochmash (part of Rostec). The kit includes a "friend or foe" identification system for armored vehicles and a subscriber module of an automated command and control system that allows you to navigate the terrain, maintain contact with the commander and other allied forces, including reconnaissance drones. The main feature of the "Warrior" is the ability to adapt the kit to the physical characteristics of a soldier. You can also modify the kit for various combat missions. There are many versions of the kit: commander, for snipers, machine gunners, crews of combat vehicles. "Warrior" allows you to integrate a fighter into a single command and control system through means of communication, control and navigation. Before that, it was reported that, at the request of the Russian Ministry of Defense, Rostec had significantly increased the pace of manufacturing Ratnik equipment.