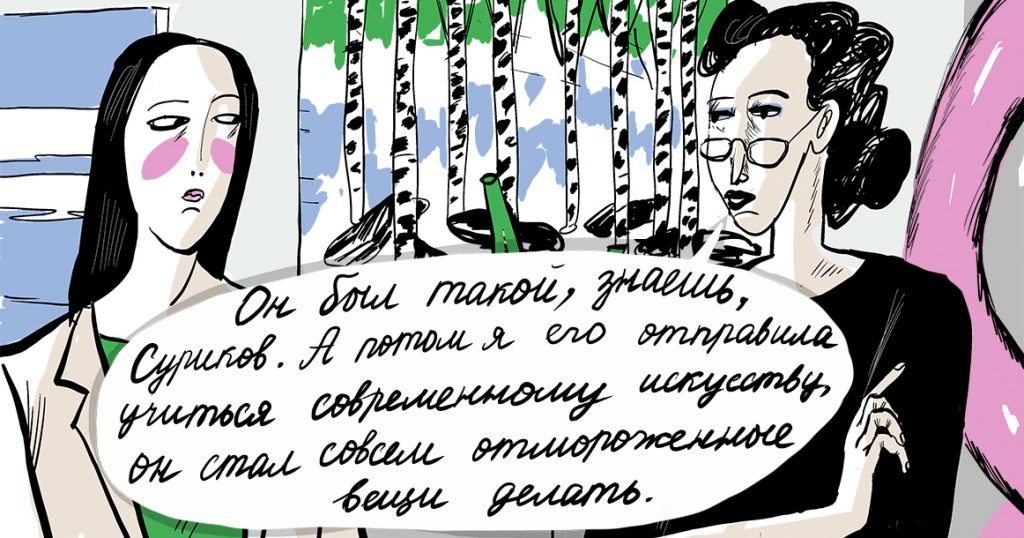 Gallery pop/off/art:
– No, in general, the space is such that it gives perspective.
– It gives prospects, but does not give money.

I want to watch some horror. To be downright scary.
– Oh, I was watching horror. It is called "Julia Peresild plays the princess."

Gallery Ovcharenko:
I tried to translate it somehow. All this through the form, but it does not work. Or not clear.
– No, of course, this is an intuitive process.
– No, it's just that my audience is 30+, and everything up to that is already starting memes in their heads.

Fine Art Gallery:
– Well, live here already. Pioneers, stall, nineties.
– Well, what kind of pioneers in the nineties? How the Union was canceled, all the pioneers, lambada.

– No, well, here the flaming carpet opens up in a completely different way.
— No texture because. No texture.

Totibadze Gallery:
– I did an exhibition at the temple. A girl came and asked her dad to buy her a painting. And then she enrolled in the studio. And she began to draw. Came with dad, can you imagine? She asked me to buy a painting. Dad is a restaurateur. As a child, it never occurred to me to ask my dad to buy a painting. And then also because of this, start drawing!

Gallery:
– He was like that, you know, Surikov. Everything is correct and realistic. And then I sent him to study modern art, and he began to do some completely frostbitten things. Not vile, but just so frostbitten.

XL Ggallery:
– In contemporary art, if done very badly, it can be very good. This must be understood. And use.

Triumph Gallery:
"Let's give another circle, maybe some chakras will still open in us …

I was thinking about hanging something like this at home. Although the brain does not eat, but hanging an abstract if is not clear what.

HSE Art Gallery:
– There are many plans. Lots of creativity. She will have a series of dogs, a series of cats and some other series, too, probably.

– In terms of the image, I wanted to be like Gorillaz.
– You mean the Gorillaz band? Musical?
– Yes, but then I realized that I shouldn't focus on geniuses. You have to be a genius yourself.

Alisa Gallery:
– Well, they also made a catalog for the exhibition and somewhere they wrote that he was self-taught, but he was offended because he was not self-taught, but some kind of engineer.

– I personally do not understand the artists who draw this Russian khton here. What for? Isn't it sad to draw it too?
— Do you understand the artists who draw mushroom trips?

— Contemporary art is such a clearing, you know. Everyone thinks that anyone can come here and trample. And you also need to know how to stomp. This is not some bullshit for you.
Illustration: Natalie-Kate Pangilinan