Nizhny Tagil police are looking for a man. He found someone else's bank card and managed to spend 4 thousand rubles.
A 28-year-old man applied to the police department No. 16. He said that on September 11 he lost his wallet, which contained a bank card. After that, he received a message about debiting money for a purchase at a grocery store. The man went into the bank's application on his phone and found out about several write-offs for a total of 4 thousand rubles, the press group of the Ministry of Internal Affairs reported.
The police found that this card was used to pay in the Rezhevsky district of the Sverdlovsk region, performing 7 operations in total. Employees of the Criminal Investigation Department checked the recordings from CCTV cameras in retail outlets. The alleged purse thief appeared to be about 30 years old, about 175 centimeters tall, of average build, was wearing blue jeans, a black jacket, a baseball cap, and a medical mask on his face.
Now police officers are identifying the suspect and asking everyone who knows this man to report information by phone (3435) 97-64-02 or line 102 from any mobile operator.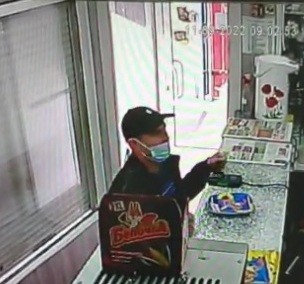 Police officers are identifying a man suspected of stealing money from a bank card. Photo: press group of the Ministry of Internal Affairs

The All News news agency has a Telegram channel. This is a fast and convenient way to get the most important news directly to your phone. Subscribe so you don't miss anything important.