Ivan Komkov is 19 years old. He studies at the Nizhny Tagil Technical School of Metalworking Production and Service, is fond of programming and robotics, and is a member of the national team of the Abilympics movement. Vanya loves spending time with his family, playing computer games, and dreams of entering Baumanka. At first glance, it is hard to believe that he is almost completely deaf.
Vanya was born healthy
Vanya was not yet a month old when he was admitted to the hospital – he caught E. coli. The therapy was not in vain – the boy had a hearing loss.
"Ivan fell ill when he was two weeks old. We ended up in the hospital with E. coli. He was treated with antibiotics, among which was amikacin, I was injected with gentamicin. The former, if dosed incorrectly, can cause hearing loss. No one can say what he was born like, but I think he was born healthy," says Vanya's mother Svetlana Petrochenkova.
A few months later, Svetlana began to sound the alarm. She began to notice that with any loud sound, her son turns his head only to the right side, and never to the left. She became worried and went to the doctors. They said that there was no reason to worry, everything was fine with the child. Only after a year he was diagnosed with bilateral sensorineural hearing loss.
"In the left ear, he has almost complete loss, in the right there are no high frequencies, and the lower ones are preserved. He hears the rumble, drums, vibration, but he does not hear the ringing of the phone. The upper frequencies are gone completely. Hearing is complex. We were prosthetic devices at first, but they did not draw out this difference. The difficulty is still there. It is impossible to find a suitable device. When the upper frequencies are pulled, his lower frequencies begin to deafen. The ear suffers from this, it becomes deaf, one might say, even more, "explains Ivan's mother.
Svetlana did everything for Vanya to get the maximum development, drove him from Nizhny Tagil to specialists in Yekaterinburg, St. Petersburg. She decided at all costs to teach her son to speak, and for this she had to make incredible efforts. Vanya was given classes with titanic difficulty, through tears. But all this was not in vain. With such a hearing loss, he has a very good speech, he does not need a sign language interpreter to communicate.
"I don't know anything from dactyl, I had the task of teaching a child to speak. They mostly speak their own language at school, in the boarding school, it is much easier for them. Most often, children fly completely into sign language. We decided that at home we would only speak in voice, so that there would be no opportunity to jump off. Everyone credits us with the fact that he speaks very well, probably, indeed, he is, "admits Svetlana Yuryevna.
Vanya reads lips very well. You can even pronounce words without sounds. Therefore, he suffered greatly when, due to the coronovirus, a mask regime was introduced – he was deprived of the opportunity to understand others. He even asked his mother to take off the mask. And during communication, he often guesses what they want to say to him, which is why he used to mislead doctors.
"When we arrived in St. Petersburg at the Research Institute of ENT [Научно-исследовательский институт уха, горла, носа и речи Минздрава РФ] his hearing surprised everyone. Not exactly an ordinary situation. The child thinks out a lot due to intellectual safety – he has a fairly high intelligence. He thinks, he thinks. He deceived many doctors, they believed that he heard, "recalls Svetlana.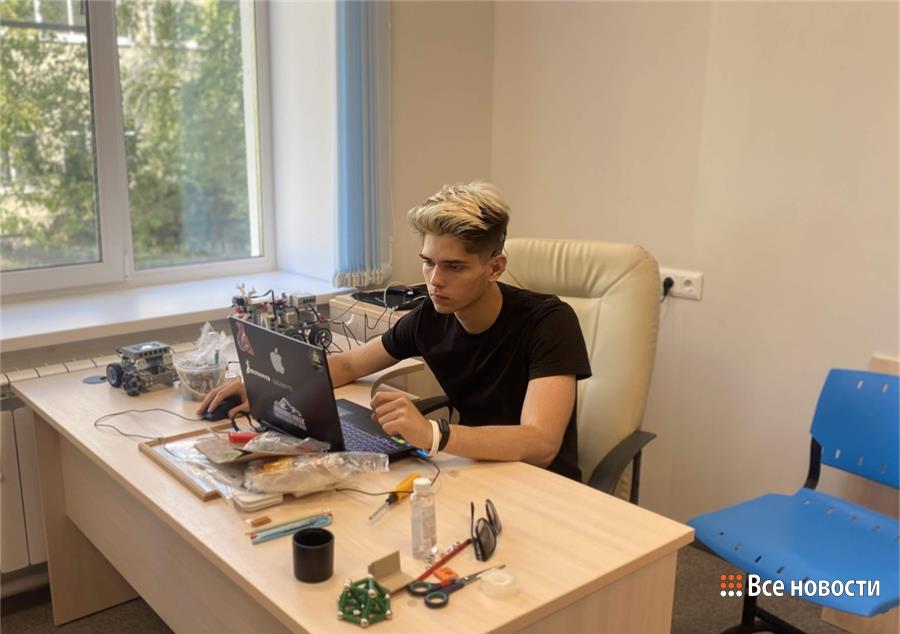 Ivan Komkov
From the hobby of Lego to victory in all-Russian competitions
As a child, Vanya wanted to be a military man, but he understood that due to hearing problems, the dream would not come true. Then I decided to become an engineer. For as long as I can remember, I have always loved designing. After the tenth grade, the young man learned about the Abilympics international movement. This is a competition in professional skills, an analogue of WorldSkills, only for people with disabilities. Vanya began to prepare for the "Robotics" competency. Fate connected him with the teacher Lilia Gulyaeva. She became for the guy not only a mentor, but also a friend.
"Vanya was a non-standard child. The basic tasks that I gave him, he performed extraordinary. I saw how ordinary children do it. And he, like the reception is wrong, but he did it in such a way that the building was completed. I have a photograph where he built a Lego tower, his tower became the highest. All the kids do it every year, but his tower is still in the lead. Somewhere over 180 cm," says Lilia Gulyaeva proudly.
Vanya failed to win his first regional stage of Abilympics. But not because there was not enough knowledge and skills.
"We arrived in Yekaterinburg, Vanya's robot drove along the black line – we did it with two sensors. But for such a stage of the competition, it was a high level. We were told that you would go to Moscow with two, and here you would ride with one. It was stupid to program with one sensor, so he didn't win the first regional stage, "the teacher shares.
It was possible to take revenge a year later. Vanya became the winner and received a ticket to Moscow for the All-Russian stage. But there he made a minor mistake and lost first place. A year later, Ivan went the same way, only this time he became the leader and joined the national team among robotics. In May, the Abilympics international competitions were supposed to take place, but due to the political situation they were postponed indefinitely.
There were other competitions, recalls Tagil student. For example, at the regional stage of the All-Russian Olympiad in robotics, the jury members called Vanya a "super dude". The experts were amazed by his abilities: when teams of two people completed a task according to a ready-made program, Vanya alone did everything himself, from scratch.
Vanya won another victory at the DeafSkills championship. This is a competition for people with hearing impairments. In 2021, the Robotics competency was opened for the first time. In addition to Vanya, five more participants showed up in it: four from Moscow, one from St. Petersburg. The tasks were familiar to the Tagil student, and he easily won – on the control race, his robot completed the task in the minimum time. This year DeafSkills competitions will be held in Ufa, and Vanya will go to them in a different status. He will join the jury and will evaluate other participants – he will become one of the youngest experts in the championship.
About friendship and support
Vanya lacks communication with peers. He has few friends. The whole social circle is a family, pupils of the circle on robotics and Lilia Gulyaeva.
"Vanya is very interesting in the sense that he is very open and it helps a lot, especially when you need to prepare for competitions. He comes in and you can immediately feel in what mood he arrived. Sometimes you need to take some time to just sit and talk. He lacks communication with peers, heart to heart, "the teacher argues.
But with the deaf, the guy rarely meets. He says they have different interests. The guys with whom he really became friends live in Moscow, St. Petersburg, Novosibirsk, Nizhny Novgorod, Vladivostok. All of them are members of Abilympics. Everyone has their own characteristics of health, but they are united by a love of science and a common desire for something more.
Vanya also got a lot of support when he was awarded a faulty laptop for winning the Abilympics national stage. The organizers then ignored this fact, and justice had to be sought through the courts. At the same time, people from different parts of the country began to call Vanya's mother and offer help.
"The laptop was replaced, but it's so simple, it won't handle robotics programs. It so happened that another law firm from Orenburg responded, at first I refused to help, because we won the court. But they insisted that we accept a gift from them and sent a new laptop with good characteristics so that Vanya could develop further," says Svetlana.
Towards the dream
Vanya does not complain about fate, accepts everything as it is and confidently goes to his goal. She dreams of finding a job with a good salary, true friends, and starting a family. But first you need to enter the Bauman Moscow State Technical University in the engineering field. This idea he now lives.
"I have always loved to create something, even if it is difficult. I always solve the problem. I like to break my head in order to achieve something <…> I spend all my money on my studies – I go to a tutor in mathematics and physics. Russian will still be needed [подтянуть] to pass the exam and enter Baumanka, "Vanya shares his plans.
Svetlana supports her son's aspirations. Although he admits that, due to the nature of his health, it is more difficult for him to study, it takes more time to master any material. But she believes in her son. The teacher also believes in him.
"He is stubborn, very responsible, not punctual, true, but everything that you ask to do at home, he will do. He is a workaholic. I don't know how many months of hard work it takes him to get tired. Even if he doesn't understand, he will still peck, peck, until he understands and says: "Wow, I understand everything!" He sets a great example for the rest of the guys. Despite the fact that he has limitations, he is an authority in the circle, "says Ivan's mentor.