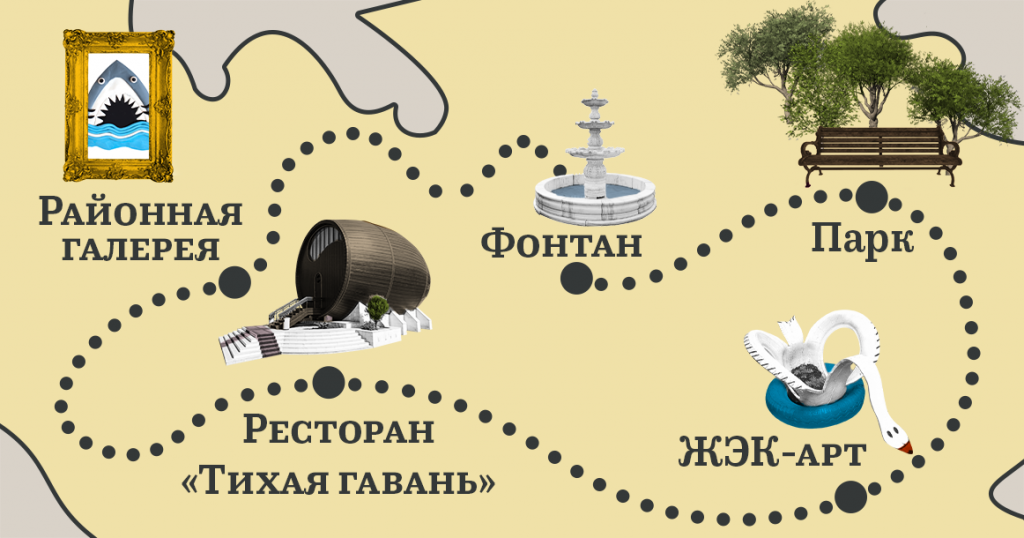 Of course, in the sleeping areas you will not find concerts in every bar on Friday evening (however, you may not find the bar itself), but still, some Biryulyovo exists not only to die there from the monotony and longing (in extreme cases – to sleep). There is life there too. And sometimes she even happens to be quite happy.Of course, when it comes to city entertainment, geographically, at least the limits of the Circle Line are meant, and this is an average of forty minutes in Moscow with one transfer. We keep in mind a traffic jam on a bus on Volgogradsky Prospekt or Schelkovskoye Highway in the 5/2 schedule. The desire to rest, thus, somehow disappears by itself. Still, the body wants to rest, or at least spend a day without passing through any turnstile. So you have to look for entertainment within walking distance.
Walk in the park
A park in green sleeping areas is a real success and a joy for a heart tired of office squabbles. Jumping squirrels have a positive effect on tachycardia from a missed deadline, the smooth surface of an old pond will calm thoughts about KPI and a sales plan. Looking at Russian birch trees and the shadow of mighty oaks, somehow I immediately want to rise above office work, forget about bugs in the code and let into my life not carbonara pasta for 600 rubles, but some simple joys: boating, skiing, in the end, take a bait and join this mysterious subculture of gloomy people who have been trying to catch a skinny silver carp all weekend.
Of course, there is a place for those who are not used to giving up their gastronomic habits: they are fed in parks at every turn, and if you are lucky, even with views of swans, which, unlike those on the Patriarchs, for some reason, no one especially photographs. So there is an opportunity to take that very selfie with the right tag in absolutely uncompetitive conditions. However, if you want a little nostalgia, it is still possible to find those very pretzels to the dull vocals of Mikhail Shufutinsky and the old squeaky rides with winged swings. Although this is, of course, the exception rather than the rule.
Meet at the fountain
Residents of areas that did not get the park can console themselves with fountains. Nearby, however, the board of honor of the district administration is sure to flaunt. Here you need to understand that you are not just walking, but attending an exercise called "Go out to people." It's almost like a visit to the center, only within walking distance, and therefore it is customary to come here almost the same as in the "Depot": in full war paint and with a bank card. Here you can drink coffee from local tents, ride young children in radio-controlled cars and watch law enforcement explain to local drunks that the sleeping area does not exist to sleep where you have to.
Visit cultural places
District galleries are an inexhaustible source of struggle for public education. Workers of beauty struggle not only with the lack of culture among the masses, but also with the absence, for example, of an entrance from the main street. They amaze with their sudden idea at all costs to make a photo exhibition of fur seals from the Commander Islands or a retrospective of folk dolls, organize a reading of Gogol's "The Overcoat" or suddenly bring the sounds of Bach's aria into the music of Kashirskoye Shosse. The absence of visitors does not affect the quality of the content. These people are able to create beauty even for one sleeping pensioner. After all, love for art has no barriers, it simply saturates oxygen with high spirituality.
The abilities of regional libraries are also amazing: these are no longer dull rooms with a dusty portrait of Vladimir Mayakovsky on the wall, but modern cultural centers with coworking, a cooler and a decent toilet. The typical librarian's problem isn't just to hand out a book or a library card, but to politely confront people who come to the computer lab to download porn or sleep in the lounge.
Particularly lucky are those areas that can boast of their folk museum. If you came there for the first time and just want to see the exposition, then you are unlikely to succeed. Most likely, you will meet a person on the threshold of this institution who misses the audience, which means that an immersive performance from the series "Konkovo ​​is the center of the world" awaits you. After that, almost as if under hypnosis, you will cast aside all doubts and, of course, move here to live. And if some uncertainty still smolders in your eyes, then you will definitely be signed up for a local tour of the five-story buildings. And there you will see for yourself that there is nothing stronger than the magic charms of a regional amateur local historian.
Pay a visit to a local restaurant
Of course, a chain restaurant in a residential area is not uncommon, but now we are talking about the very local restaurant "Alaverdi", "Baku Yard" or "Quiet Harbor". And sometimes it is really impressive: here you can still find Caucasian hospitality against the backdrop of Italian columns and cages with parrots, monstrous stucco combined with the spicy taste of shurpa or satsivi with a view of the murals of the Alpine valley. It still works according to the classic precepts from the 1990s: not quite clean, but rich. Not very tasty, but colorful. Of course, local waiters are not always aware of the fact that the world is customer-oriented, but you can console yourself with the thought that everything is ahead of them. Sometimes you can get to the celebration of someone's wedding. Then they will tell you that you can't eat here now, because it's a holiday, but then they still greedily fuss and suddenly find a table somewhere in the back room. In the end, this is a territory where the reality of one day operates: take what is given now, otherwise there will be no tomorrow.
With bars, the situation is much worse. Of course, the power of craft beer overcomes the Moscow Ring Road, but still, why pay for a glass of beer at the same price as on Pokrovka, and change several establishments in the evening, if you can make a route from one Krasnoe i Beloe store to another? Quite a different experience, isn't it?
Enjoy ZhEK-art
An animal made of tires unknown to science, Christmas decorations on stumps, a car made of garbage or a flower bed from a closet – courtyard art of varying degrees of awkwardness and charm captures territories and is carefully guarded by residents. Not only the choice of materials is amusing, but also the image itself: folklore characters, an abundance of fly agaric and other mushrooms for every taste, rastaman dinosaurs, Disney characters with ferocious faces, installations on the theme of Russian life with rakes and barrels. In short, beauty here definitely requires sacrifice in the form of a herring can or an old cistern. Everything goes to nurture your corner, lovingly decorated with flowers, and enjoy it every day. And sometimes even from the window of his own apartment.
Observe the natural processes of urbanism
Quests called "find my window in this twenty-story building" or just looking for real streets on maps on your phone are all activities for those who have never been here. In residential areas, the metro or industrial zone can become the main center of beauty, and a residential building can be located in a dense ring of auto interchanges. In the "sleeping bag" you understand how diverse and multinational Moscow really is: at the grocery store, food deliveries pray, at the garages gopniks fry shish kebabs. Someone is looking for their cat under the bushes, and someone is looking for something less legal. Here they walk along their own folk trails, and not those that were laid by public utilities. There is no visual splendor and architectural diversity, you don't have to maintain your own representation, but you can afford to just live.