City


, 1 minute. for reading
Demanded working conditions: in vacancies they began to promise a reservation from mobilization
It seems that the new line will be more important than such lines as "young friendly team" and "free tea with cookies." And for someone it will be of greater importance than the size of the salary.
So, on September 21, JSC "47 TsPII" – the Central Design and Survey Institute, which also fulfills state orders, published vacancies for an engineer and designer, in which, among other conditions said: "mobilization reservation". So to speak, they went with trump cards.
The same advantage of employment is also called in law enforcement agencies. The 2nd separate police battalion, the inter-district department of private security in the South-Eastern Administrative District, which is engaged in the protection of sensitive facilities, today posted vacancy, where almost immediately (for some reason in the paragraph "Duties") it is said: "the personnel of the unit is not called up for military service by mobilization."
In addition, after today's explanations from the Ministry of Defense that there will be fenced employees of accredited IT companies and telecom operators, HR of these businesses have already corrected vacancies. For example, the clause on deferment from mobilization appeared Job openings for IT Sales Manager. And the provider "Inetcom" completed in an announcement published on September 20: "According to the decision of the Ministry of Defense, employees of Russian telecom operators and those involved in ensuring the stability, security and integrity of the operation of communications facilities, as well as public communications facilities and lines of the Russian Federation, will not be called up as part of partial mobilization."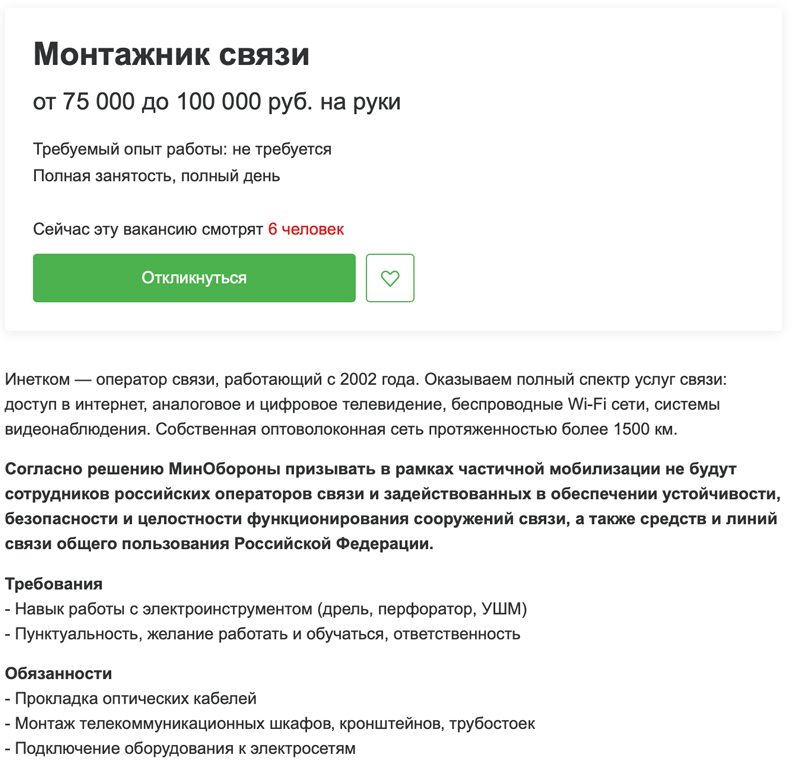 However, it was not without fraud. Journalists have noticed that companies have appeared that offer fake employment to secure reservations.
Photo: shutterstock.com
Subscribe: