Articles
what problems will arise due to the introduction of basic military training in schools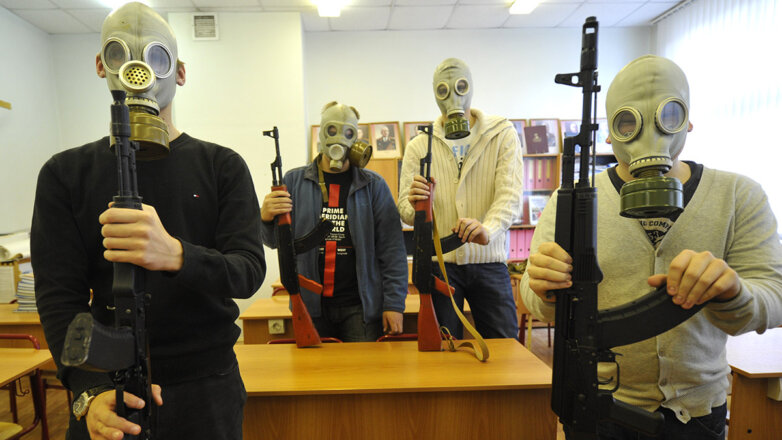 From the next academic year, primary military training (NVP) may return to schools, said the head of the Ministry of Education, Sergei Kravtsov. The idea has already been supported by the Ministry of Defense and the Federation Council. There is no curriculum yet – it is under development, and it has not been finally decided whether the new subject will be optional or mandatory. Polls show that the majority of parents are not against CWP lessons, although they do not understand what exactly their children will be taught.
How students taught charter
I found the Soviet-style NVP – first at school, and then at college. At school, a good-natured old retiree told us stories from army life, said something about bomb shelters and the damaging factors of a nuclear explosion. Sometimes (very unobtrusively) "tyrannized" us with drill training, a couple of times we were on command "gas!" in turn, they put on an old gas mask, as a bonus – they disassembled and assembled deactivated AKMs for a while (it turned out famously!) And fired several times from an air rifle. Once we even went to a military shooting range to shoot from a Kalashnikov – three rounds per brother.
But in college everything was serious. Students were required to appear in the NVP class in military shirts and green ties ("what does it mean no? – buy!"), In the classroom we learned the charter of the garrison and guard services, marched in the basement, sang "artillerymen, Stalin gave the order", but how once they tried to stab some piece of wood with a bayonet. When the girls asked the teacher why they need to learn the charter, because they are not going to join the army, he frowned bushy eyebrows and said slyly: "And then, that the girl who learned the charter will always know what to do if her husband comes home drunk" . He generally believed that barracks science could be applied to our entire civilian life.
I confess that, remembering all this, I did not feel a surge of enthusiasm from the news of the return of the NVP to schools. But perhaps things will be different now? Alas, we do not know this. According to Minister Kravtsov, the basic military training module is only being prepared and should be developed before January 1, 2023, then the program will be tested, after which educational institutions "will be able to use it in their work." The project has two options, one of which will be focused on specialized cadet classes.
According to the department, already today the CWP modules are included in the curriculum on the basics of life safety (OBZh). In particular, in the classroom, schoolchildren study the rights and obligations of a citizen during conscription and military service, issues of military professional activity and first aid techniques.
As for the new regulations, the information is very contradictory. First Deputy Minister of Defense Valery Gerasimov suggested devoting 140 hours to military training over the course of two years. Some media, citing an information note from the Ministry of Education, reported that educational institutions themselves would be able to decide whether to include "subjects and courses dedicated to the study of NWP" in the curriculum. On the other hand, Minister Kravtsov clarified that military training is part of the OBZH, and this subject is mandatory.
Men for, women doubt
According to a survey conducted by the SuperJob service, 67% of parents of high school students and students support the introduction of CWP. The survey was conducted among economically active citizens from different regions of the country. Six out of ten respondents supported the initiative, albeit with a caveat: "The course is needed, but it should be as useful as possible: not only walk in formation." 22% were against, saying that traffic rules, driving lessons or first aid courses would be more useful. Another 17% abstained from the assessment. There were more NVP supporters among men (67%) than among women (53%).
"It is necessary to introduce such a course, it is necessary: ​​a nation that knows how to stand up for itself has a better chance of survival," commented a fellow editor whose daughter now goes to school. A familiar young mother, a hiking instructor by profession, answered more evasively: if there are sports activities – orienteering, working with maps, tactical and physical training ("running around with a machine gun, leaving grenades"), then this is not bad for the boys. Survival skills in extreme situations are also useful if a person finds himself in a war zone. But she is afraid that suddenly there will be "only martyrdom and brainwashing" – then it's better to do something "more practical or interesting": the basics of financial literacy, biology or ecology.
It is clear that the ideological burden in military training cannot be avoided – the question is in the dosage. Judging by the statements of some officials, ideology can almost become the basis of a new subject. About this, the leader of the party and the Duma faction "A Just Russia – For Truth" Sergei Mironov spoke about this. According to him, it is not only about learning how to handle a machine gun, but also about "an important element of the patriotic education of young people, without which the country will have no future. Love for the Motherland must be backed up by skills to defend it."
Who will teach
The opinion of experts and teachers about the introduction of a military training course is similar to the opinion of ordinary citizens. Teaching in NVP schools is a useful and necessary idea, but we run the risk of getting a slightly modernized reincarnation of the Soviet NVP or a reissue of OBZh.
"It won't get worse, if only it doesn't turn into profanity," a familiar teacher, physical education teacher and class teacher commented on the initiative. The school where he works already has a negative experience: "They made a cadet class and appointed [руководителем] dancer, put on him a military uniform. They are busy marching and laying wreaths."
Of course, there is a point in introducing NVP, says Oleg Zverev, Associate Professor of the Department of Physical Education and Life Safety at Moscow State Pedagogical University, but success will depend on the content, content and, of course, on who and how will teach. "This is extremely important, especially at school. After all, there are competencies, but there is the charisma of the teacher, his passion for the subject, when, as they say, his eyes are on fire, "says Zverev. Moreover, military training can and should go beyond working with military ammunition and disassembling and assembling a machine gun. Great attention should be paid, for example, to first aid – these are skills that will be important in civilian life.
The training of teachers can become a serious problem, the expert believes. The candidate not only must have specific skills, be a former officer or rescuer, he must also become a teacher. To work with children, "you need to understand both psychology and pedagogy": not all approaches and methods that worked in the army can be used at school. A future NVP teacher needs at least a retraining course – that's 512 hours, plus it would be nice to get a master's degree. That is, the training of a specialist capable of working with children will take from several months to two years.
Shooting or marching
There is a proverb in the discipline called "practical shooting": you must not quickly disassemble the weapon, but quickly shoot it. Many of those who today teach people how to shoot, how to properly and safely handle their guns and carbines, are very critical of the practices of the Soviet NVP.
"You don't have to march with a machine gun, but shoot," said Boris Pashchenko, head of the Tactics Moscow shooting club. When he saw the news about the introduction of NVP in schools, he remembered how earlier they showed reports on TV where blindfolded girls "in five seconds" dismantled a Kalashnikov assault rifle. "When we started shooting and teaching beginners, it became clear that this was not just a profanity, but perhaps the biggest harm that can be done to a person who is interested in weapons and handling them," says Pashchenko. If it were his will, out of the 140 hours that First Deputy Minister of Defense Valery Gerasimov proposed to allocate to the NVP, he would have spent 139 hours on shooting and practicing practical techniques with weapons (holding, moving, etc.) and only one hour – on disassembly and assembly. True, all this is provided that there will be where and from what to shoot.
Practical shooting instructor, head of the corps of judges of the Federation of Precision Shooting Ivan Languev (formerly a naval officer) believes that within the framework of the NVP, a basic shooting skill could be given. It's like riding a bicycle: you won't become a champion, but you'll learn how to keep your balance and pedal – already a lot. True, the schools themselves have neither weapons nor infrastructure for this. That is, administrations will have to take the initiative, negotiate with shooting ranges or shooting ranges, and this is "a lot of waste paper and, as a result, a paid service for a lot of money."
In general, military training requires personnel and very good material support: military equipment, personal armor protection, modern communications, UAVs – this is the base that a modern soldier cannot do without knowing. And who will provide all this to schools, Languev wonders. Shooting from a real military weapon is from the category of fantasy. Pneumatics can give some skills, but "the sense of this is only for very small ones."
Do you really have to do the disassembly and assembly of the decommissioned AKM again? "It is hard to imagine that two armies will enter the battlefield and begin to disassemble and assemble machine guns for a while. So you won't win the war," the expert is sure.