City


, 1 minute. for reading
A public center will be built near the Prokshino metro station, similar to a futuristic village inside the city
Moscomarchitecture announced the winner of the competition, whose task was to develop a project for a complex where residents of a large residential area can spend their free time. The consortium IND-DO won, which united the Moscow architectural bureaus IND and DO buro.
The chief architect of Moscow Sergey Kuznetsov describes the winning project as follows: "The key advantage of the winning concept is the realization of the unique potential of the new territories of Moscow, combining the features of urban housing with a suburban context", and calls the main feature "the functional synergy of the city and nature". To put it simply, the community center will look like a futuristic village inscribed in a multi-storey residential building near the Prokshino metro station.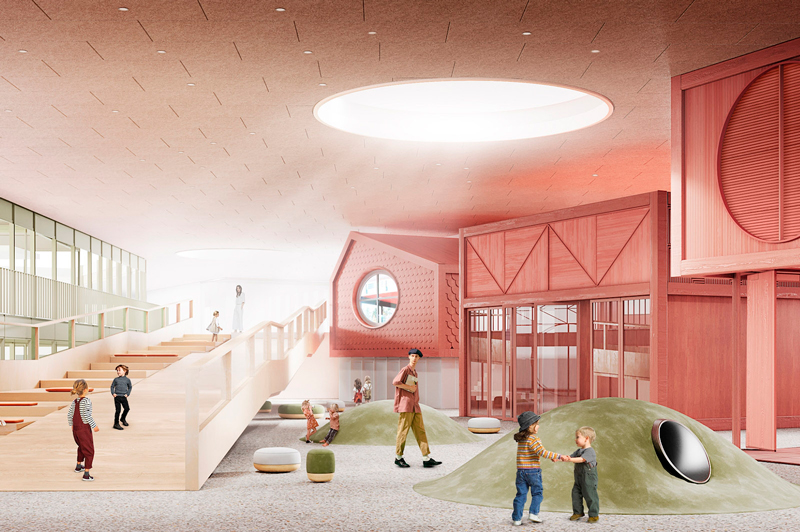 The center itself is somewhat reminiscent of the work of the Suprematists: it is composed of simple geometric shapes – cubes, pyramids and prisms, placed at unusual angles and generously seasoned with bright accents. At the same time, the porch and terrace on the roof of the complex refer to village houses. Competition jury member architect Vladimir Plotkin also says that "the IND concept is smart and beautiful at the same time, it combines modern architecture with the poetics of a country dacha." A children's living room, a concert hall, a library, a restaurant will be located in this center, and an orchard will be planted nearby, near which street vernissages and fairs will be held.
Next to the cultural center will open a kindergarten, even more reminiscent of the village. Its low buildings will fit into the complex terrain that forms the natural play landscape.
Illustrations: IND-DO
Subscribe: